VIDEO DEMO
At KPMG Forensic, we are in the business of preventing and detecting fraud, and much to my surprise, you were able to fool our top-notch investigators. I particularly appreciate the time you took to achieve a high-level understanding of our people and business.

Your presentation was a great way to build team morale, break down social barriers, and have a few laughs after a long day. Thank you again for a job well done.

Thank you for a great job at our annual conference. You took a crowd that had been sitting in meetings all morning and got them laughing and refreshed for the rest of the day's meetings. Our group had a wonderful time.

I particularly want to express my appreciation for the amount of customization you did to make your presentation fit our corporate culture. It was a pleasure working with you.
A great presentation at the NYSE – everyone loved it! You had them roaring. It was especially impressive due to the depth of research and your great delivery.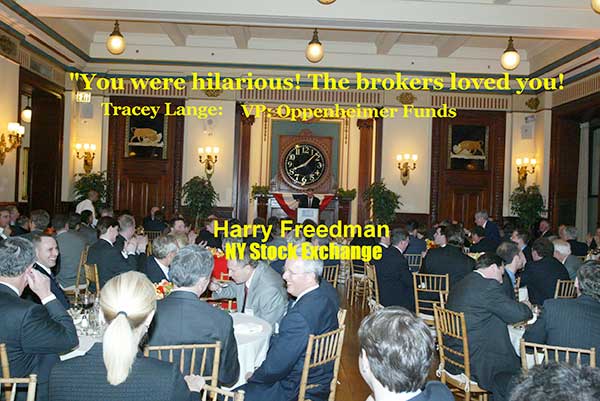 Thank you for the wonderful job you did as MC and "Roast master" of our Multifamily, senior vice president's retirement dinner. The evening was perfect and you added just the right touch. We've been inundated with specifically citing you as being "right on target" with your jokes aimed at pre-arranged individuals. You had everyone in the audience in stitches.

I would personally like to thank you for making my job not only easy by pleasant. As I'm sure you are aware, this type of event can be very stressful for the event planner. Your hours and preparation and regular conversation prior to the event put my mind at ease and enabled me to relax and enjoy the show. I knew from our first conversation you were the right man for the job and you didn't let me down.

Again, thank you very much for helping make the retirement dinner a wonderful success.

Thank you for making for a very memorable Sales Meeting. The fact that you were able to pull of the dinner the night before and not blow your cover still amazes many. "That man was like Teflon" Tom kept saying. "I kept questioning him, and he kept telling me to wait for the meeting – He was killing me!"

Bravo – If you can get the "Bull in the China Shop" to give up and wait – You do a fine job!

Thanks for taking so much time to learn, and be taught about our organization. People still were asking if you were really a speaker even after you admitted that you were a "hired hand".

Thanks for the great laughs and for being so thorough.

We've had humorist and comedians before, but never have we heard our normally restrained bankers pounding on the tables with laughter.

VIDEO DEMO
Great job! I have received raves from everyone about the outstanding performance you gave at my installation dinner as President of the Nassau Chapter of the NY State Society of CPA's. You took a very tough and chatty crowd and just owned them right from the beginning, getting huge laughs while convincing them that you were an economist that was going to join my accounting firm.

The crowd loved it! And then to top it all off, you made a very funny touching humorous tribute video that had everyone rolling as well.

I want to thank you for all the time you took to learn about me both for the put-on and the video. As much as I knew you were going to be a hit, it was even better live and in person.

I would be happy to be a reference for you to anyone looking for a great entertainer that not only does his homework, but really delivers a home run.

Harry, truly, we could not have asked for a better way to end our conference or for a better reaction from our guests. It was a huge success. Your delivery and timing were terrific and many of our attendees commented on how you successfully incorporated industry terminology and company names to keep the illusion going. I know a number of clients expressed an interest in having you perform at their company events.

Thank you for all the time you spent in preparation and also in the video editing process. The video interviews were a great addition – I'm glad we added them.